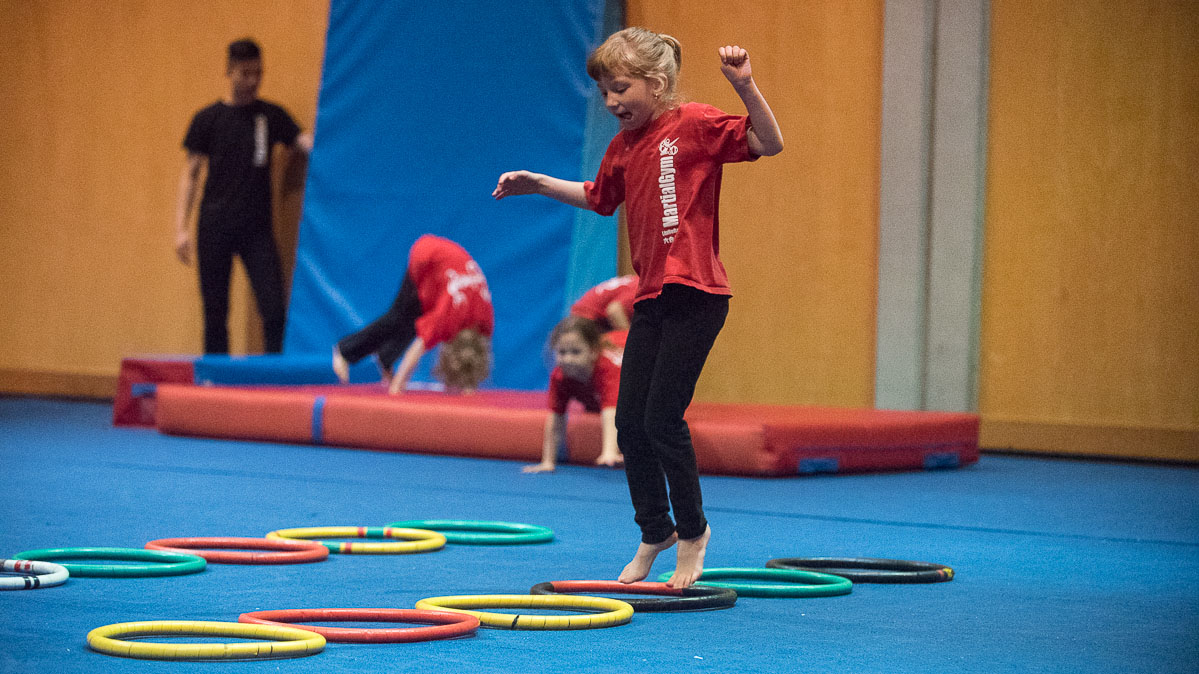 MartialGym help kids gain confidence by helping them believe on their own ability to learn, to jump high, to land safely, to move with speed and control and to have fun through physical activities.
Gymnastics Starters (Nikkei Tue 3:45-4:45pm) – learn through games and activities
Intended for children 7 or above. Children of different ability and skill levels will work together, each being challenged to their own comfort level. In addition to classical gymnastics skills like cartwheels, round-offs, eagle jumps, handstand rolls, etc, participants will learn fundamental concepts of self protection like how to fall, go over obstacles, being comfortable with height They will improve their strength, stamina and agility through games, rope skipping and more.
Gymnastics Stars (Nikkei Tue 4:45-5:45pm) – learn skills that lead to bigger techniques
This is intended for children who is more ready to be challenged with bigger skills.
Performers 1 (Wed. 3:45-4:45pm at Nikkei)
Intended for children 7 or above. Participants has already spent two or more years working on basic skills and they now have the speed and strength to work on tumbling using spring board. They are ready for more conditioning leading for better speed and strength.
Performers 2 (Wed. 4:45-6:00pm at Nikkei)
Intended for children 9 or above (8 years old are the exceptions). Participants has already master basic skills like cartwheel, dive roll, round off, rope and more. They have the speed and strength to work on tumbling like front flip and aerials. Furthermore, they are ready for more conditioning work leading to better speed and strength.
Functional Gymnastics (Tue, 5:45-7:00pm at Nikkei)
Intended for children between 8 and above. Participants are learning both gymnastics skills and martial arts. They will do cartwheels, handstand, dive rolls and clearing obstacles. They are also learning the basics of martial arts like move out of the line of fire, distance management, awareness and some non-escalating self-defense skills.
Locations
Currently, there are only two locations offering the children's program.
Nikkei Center (6688 Southoaks Crescent, Burnaby) is the only location within the lower mainland offering full year-round program for children with different skill level. To register or to arrange for a tryout, please go to the appropriate page of this website.


Harry jerome community recreation Centre (123 East 23rd Street) is a community center offered program. Registration is done via the NVRC website at https://econnect.northvanrec.com/ereg/Start/Start.asp. It is listed under the category of Sport. A new session will start in September.